Personality Test
Prior to attending doggie daycare or overnight lodging, we recommend you bring your dog in for a personality test. It takes approximately ten minutes and can be done any day before 6pm except over holiday weekends.
Aggressive dogs do not do well in an open-play environment. Signs of aggression are baring the teeth, growling or a stiff, upright tail, although some dogs may growl or show the teeth out of fearfulness. That is something that may be overcome with time.
Many mistake dominance for aggression. Dominance is not uncommon — it's a natural tendency used to establish the hierarchy of the pack. If you are not sure if your dog is aggressive or dominant, one of our well-trained staff members can assist you during a personality test.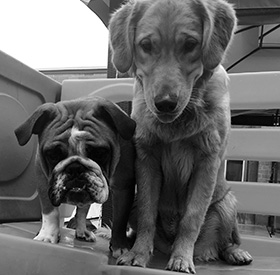 7101 South 400 West, Bldg 3 | Midvale, Utah 84047 | Telephone 801-566-1225
Conveniently located just minutes from the 7200 South and I-15 Interchange