Doggie Daycare:
Frequently Asked Questions
Do the dogs ever get in fights?
Sometimes, but not often. Only friendly dogs are allowed to stay at The Dog Lodge. It is possible however, that a guest could be having a bad day or have a personality clash with another guest. If a dog's behavior is improper, one of the members of our skilled staff would give them a quick squirt of tap water to distract them from what they are doing. If the behavior continues, they will get a "time out." That is usually all it takes. In extreme cases, when a fight breaks out and a dog is injured, they will be taken to the vet and you will be notified.
Do you feed them?
Lunch is not provided during daycare as most of the dogs are too busy and distracted to eat. You may bring a lunch if you wish, and it is recommended for young puppies. Snacks are provided upon request.
Do you have a discount for multiple daycare visits?
We do. If you plan to come on a regular basis, you may want to buy one of our Frequent Player Passes. We offer 5 and 10-visit passes to provide you with a more economical option for your daycare needs. Passes are good for daycare only and cannot be used for Lodging.
Why do you take off their collars?
We are taking a proactive approach to preventing injuries. When dogs are playing, it's common for them to tug on each others collar. This could lead to problems. Thousands of dogs are choked to death every year in America from collar accidents. We don't want that to happen at The Dog Lodge so we take off their collars. If you have multiple dogs at home, you may want to consider doing the same or buy breakaway collars if they are left unattended.
Are they able to take naps?
They are. There are natural lulls throughout the day when the group settles down to rest, but there are always little getaway spots for your dog to nap.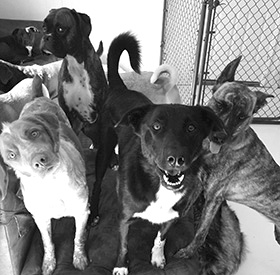 7101 South 400 West, Bldg 3 | Midvale, Utah 84047 | Telephone 801-566-1225
Conveniently located just minutes from the 7200 South and I-15 Interchange