The Dog Lodge —
A Home Away From Home
The Dog Lodge began in the year 2000. It was a long-awaited dream of mine to provide Utah with a level of dog care that had not yet been seen. The goal was to create a place where each and every dog's emotional well-being was always the first priority, a place where every dog could be truly happy.
So many years later, my goal has been achieved and while our clientele continues to grow, the original philosophy remains. Our intimate setting allows us to get to know each dog and its unique personality. The staff prides itself on its love of animals and each employee is truly touched by a loving look or silly gesture from the dogs. Our staff is unmatched in compassion, patience and ability. This is what sets us apart and has come to be known as The Dog Lodge Difference.
I am so proud of what The Dog Lodge has become. I believe we've set the bar high and become a great example of what dog care should be.
Christine Peterson
Owner & Alpha Dog
The Dog Lodge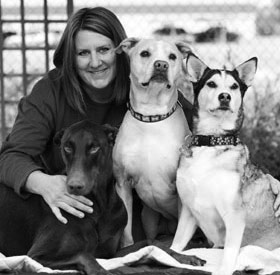 7101 South 400 West, Bldg 3 | Midvale, Utah 84047 | Telephone 801-566-1225
Conveniently located just minutes from the 7200 South and I-15 Interchange