Overnight Lodging:
Frequently Asked Questions
Should I bring my own food?
All guests are fed a breakfast and dinner of premium food at no extra charge, although you may wish to provide your own food to avoid interruption to their digestive system. If your dog is on a Premium diet, a change in food will not likely have an adverse affect. There is an increased chance of diarrhea and tummy ache when switching from non-premium, to premium and back.
When and where do they eat?
Breakfast is served between 8am- 10am in a separate dining room while dinner is served each night by 8pm in their individual room. If this does not suit your dog's needs, other arrangements can be made.
Can you administer medication
and is there a charge?
Our staff is trained to administer a variety of medications including oral, topical and subcutaneous. It is your responsibility to provide detailed instructions. There is no extra charge for medication, just one of the many differences you'll see at The Dog Lodge.
When can I drop off my dog?
We ask that you be here at least one hour prior to closing to allow your dog time to acclimate before he retires for the night and allow our staff time to properly check you in. You can drop off your dog as soon as we open, but remember, our prices are based on a 24-hour period so there could be an extra daycare charge if you pick up later than you dropped off.
What happens if I don't pick up my dog on time?
Your dog will be lodged another night and you will be charged accordingly. If you know you won't make it on time, please call and let us know so that we can set up a room and make any necessary changes before we close.
What time do the dogs go to bed?
Guests are escorted to their rooms between 7:30pm – 8pm, however, if we are here later, they will stay out until we leave. Because we have extended hours on the weekend and have regular hours every day of the year, the dogs spend less time in their room than they do in most facilities. They get up to begin a new day between 6:30am – 7am when we arrive.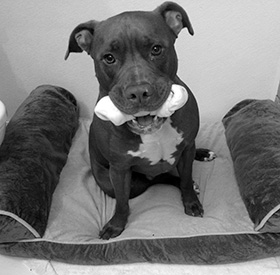 7101 South 400 West, Bldg 3 | Midvale, Utah 84047 | Telephone 801-566-1225
Conveniently located just minutes from the 7200 South and I-15 Interchange